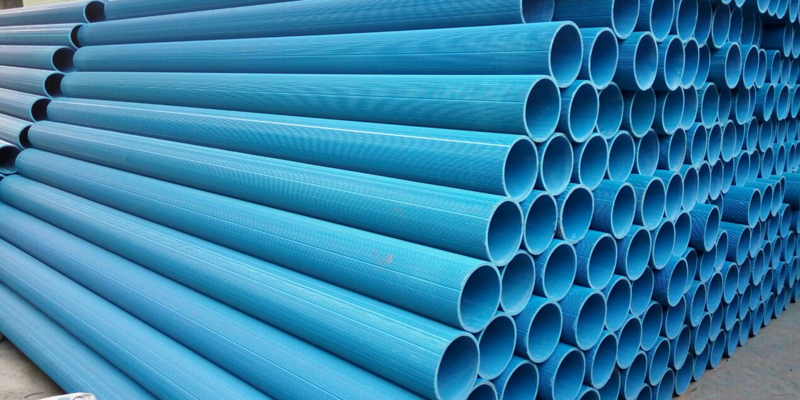 Specifications
Maximum ambient temperature : 70° C
Maximum installation depth – 80m to 250m
Installation : Vertical, Horizontal or Inclined
Application
Bore-well Casing, Irrigation, Domestic, Industrial mining, Chemical Distribution.
A better alternative to MS, ERW, GI, Asbestos, Cement and SS Pipes.
uPVC is almost inert to corrosion and chemical reaction. Hence, it can be used in salty, sandy and chemically aggressive water, without creating problems letter on.
Installation
Since uPVC pipes are lighter, they are easy to handle, transport and install.
A typical installation is shown alongside. For detailed instruction, refer our installation manual
Design
Specification followed : IS 12818:1995.
Surface finish of this pipe is extremely smooth, ehich reduces hydraulic friction.
Internal and external threading and bell-spigot ends ensure easy and reliable joining.
Ribbed screen pipes are used especially when the outer surface area of abore-well casing pipe is to be increased. the ribs provide around 25% additional surface area by virtue of their design. Besides that, it holds gravel balls away from the pipe, at a distance of about 2mm. This arrangement cleans slits naturally due to vertical flow passage. and allows more water to seep in, resulting in higher yield than other plain screen pipes with the same bore.
Material
A combination to formulate perfect uPVC is achieved with the right selection of resins, heat stabilizers, lubricants, processing aids, impact modifiers and essential additives. With all ingredients and process parameters taken in the correct proportion.
Types
Rungta Irrigation casing pipes are made as per IS: 12818 and DIN 4925 and are classified as:
Plain Pipes
These can be used as extension pipes to screen pipe. They are of two types:
1.) C. S. Pipe: For shallow-depth (up to 80 m) red colour code.
2.) C. M. Pipe: For medium-depth (up to 250 m) yellow colour code.
Screen Pipes
These pipes may be plain or ribbed. They have transverse slots and are mainly used in bore wells, from the water-table Level onwards.
Ribbed Screen Pipes
These pipes have longitudinal ribs and transverse slots. The ribs keep granulated soil away from the slots, and increase the permeability rating to more than double when compared to plain screen pipes.
Properties
Physical Properties
Found to be excellent for shallow and deep bore wells, as:
1. They have greater strength to weight ratio.
2. They have good di – electrical properties.
3. They can withstand rating temperatures ranging from 50° C to 70° C.
4. They are easy to install, due to superior threaded joints.
Chemical Properties
1. They have excellent resistance to salt, acid, alkali, oil, fat etc.
2. They are capable of handling water and pH values ranging from 2 to 12.
3. They are also resistant to all kinds of acids used in well-generation.
4. They are resistant to all types of weather-effects.
5. They are resistant to corrosion, erosion and encrustation.
6. They possess higher resistance to chemicals.
Benefits
Immune to galvanic or electrolytic erosion.
No Surface corrosion.
No protective coating required.
Not affected by acids, alkalis, oils Et fats.
Better fire resistance due to self -extinguishing nature of uPVC.
Very smooth inside and outside surfaces, so lower frictionat losses.
No encrustation.
Does not support bacterial growth.
Trapezoidal threads make joints easy to handle and install.
No skilled labor required.
Continuous ribs on screen with horizontal slots, allow over double the entry.
Light-weight ; hence easy to handle and transport.
Safe for potable water transportation.
Most economical in installation.
Reduces power consumption in the long run.
Maintenance-free.
No painting required.