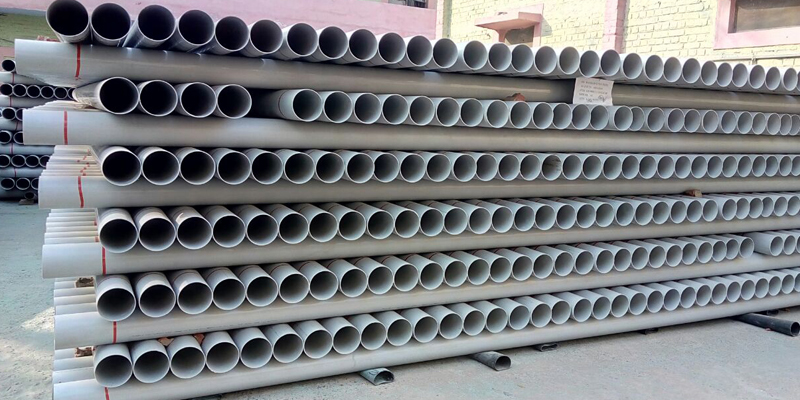 RUNGTA Rigid PVC pipes conforms to IS-4985 specifications with latest amendments, manufactured in high-tech plant with latest manufacturing technology under strict quality control.
RUNGTA Rigid PVC pipes are best preferred for disposal of chemical effluent & waste, acid slurries transportation, irrigation in agricultural farms. water supply, telecommunication cable ducting etc.
RUNGTA Rigid PVC pipes have been preferred over other available resources due to varied salient features
Tuff and durable
Low weight
Easily jointing
Good flow characteristic
Power saving
Safe
Leak proof
Resistant to moisture, corrosion, chemical, abrasion & wearingLong lasting & maintenance free
Applications
Industrialized:
Disposal of chemical effluent & waste.
Acid & slurries transportation.
Salt water handling.
Farming:
Irrigation schemes for agricultural purpose.
Salient Features of Elastomeric Pipes
Tough and Durable: RUNGTA Rigid P.V.C. Pipes & Fittings are strong, impact resistant & unaffected by weather conditions
Light load: Are easy to handle, transport & install even on difficult terrain.
Power Saving: Have smooth internal surface which implies low frictional loss. Hence power consumption is on lower side.
Are completely free from leaks
Reveal Proof: Have smoother bore in comparison to AC and GI pipes which ensures a better flow.
Secure: Are self extinguishing with good thermal & electric insulation.
Opposing to:
Wetness.
Rust.
Chemicals.
scrape.
exhausting.
Best Flow feature:
There is no deposit formation which implies better flow.
Lifelong & Maintenance Free
Are free from corrode factor, hence last longer and need minimum safeguarding.
Evaluation & benefits of RUNGTA PVC over Galvanized, AC & Cast Iron
Property
RUNGTA PVC Pipe
Galvanized Pipe
AC Pipe
Cast Iron Pipe
Advantages of RUNGTA

Rigid PVC Pipe

Heaviness
Light
Heavy
Heavy
Very Heavy
light weight therefore easy in shifting & get-together in jointing
Face
Very Smooth
Rough
Light Rough
Rough
Smooth surface gives 25 % more flow therefore smaller diameter pipe can be used.
Length
6 meter
5 to 6 meter
3 to 4 meter
3 to 4 meter
Available in full length so less joints and couplers. Thus they are economical
Flow
Initially 50 % more flow in comparison to other & retain flow till end
Initial flow gets reduced slowly because of rust
Initial flow is 40 % more
Initial flow reduced by 40 to 50 % after 5 to 10 years
Full and constant flow from initial stage which is 25 % more than GI Pipe
Effect of rust
difficulty of rust does not arise
Get rusted
Do not get rusted
Rapid rust formation
It is rust proof therefore lifelong
buildup of particles forming rust
Very less change therefore dia of Pipe remains unaltered permanently
Particles build up heavily thus dia etc abridged on long run
Particles does not mount up
Heavy growth of particles thus dia gets reduced after a period
Since diameter remains same it gives uniform flow permanently
Life
Lasts a lifetime
Gets rusted so required to be changed after 30 years
Less chances of changing
Required change after 20 years
Investment once in a lifetime
Cost of material
Very less costly
Very costly
Less costly
Very Costly
Very economical compared to other pipes
Injection Molded Fittings (20 mm – 200 mm)
| | |
| --- | --- |
| Coupler | Elbow |
| Tea | |
| | Plain End Cap |
| Service Saddle | Reducer |
| Threaded Elbow | Tail Piece |
| Threaded End Cap | Threaded Tee |